Home » DIY PROJECTS »

33 DIY Lamps and Chandeliers Lighting Up Your Home With Glory!
Throwing more light around the house with a gorgeous chandelier or a set of pretty lamps not only makes the space brighter but also adds in an element of style to the home. But, working up the magic all by yourself with DIY lamps and chandeliers is a next-level thing altogether. Check out the below ideas that range from zip-tie lamps to wooden bean chandeliers.
Best DIY Lamps and Chandeliers
1. DIY Chandelier From Wood Beads
The glamour that this DIY chandelier comes with is a subject of wonder for the tiny expense it calls for. Loads of wooden beads stringed into thread tied to quilting loops are all it takes.
DIY Details : designertrapped
2. Perforated Globe Pendant Lamp
Two plastic bowls put together to make a large sphere work up their magic for this stunning perforated globe pendant lamp. Holes are made in the pendant in a geometric pattern using some duct tape and Dremel.
DIY Details : madincrafts
3. Recycled Graters Suspended Lamp
Old cheese graters are the building blocks for a ceiling lamp no less than mesmerising. The key is to drill a hole through the handles to fix them to a wooden beam, and install lights.
DIY Details : recyclart
4. Vanity Light Strip Hanging Pendant Light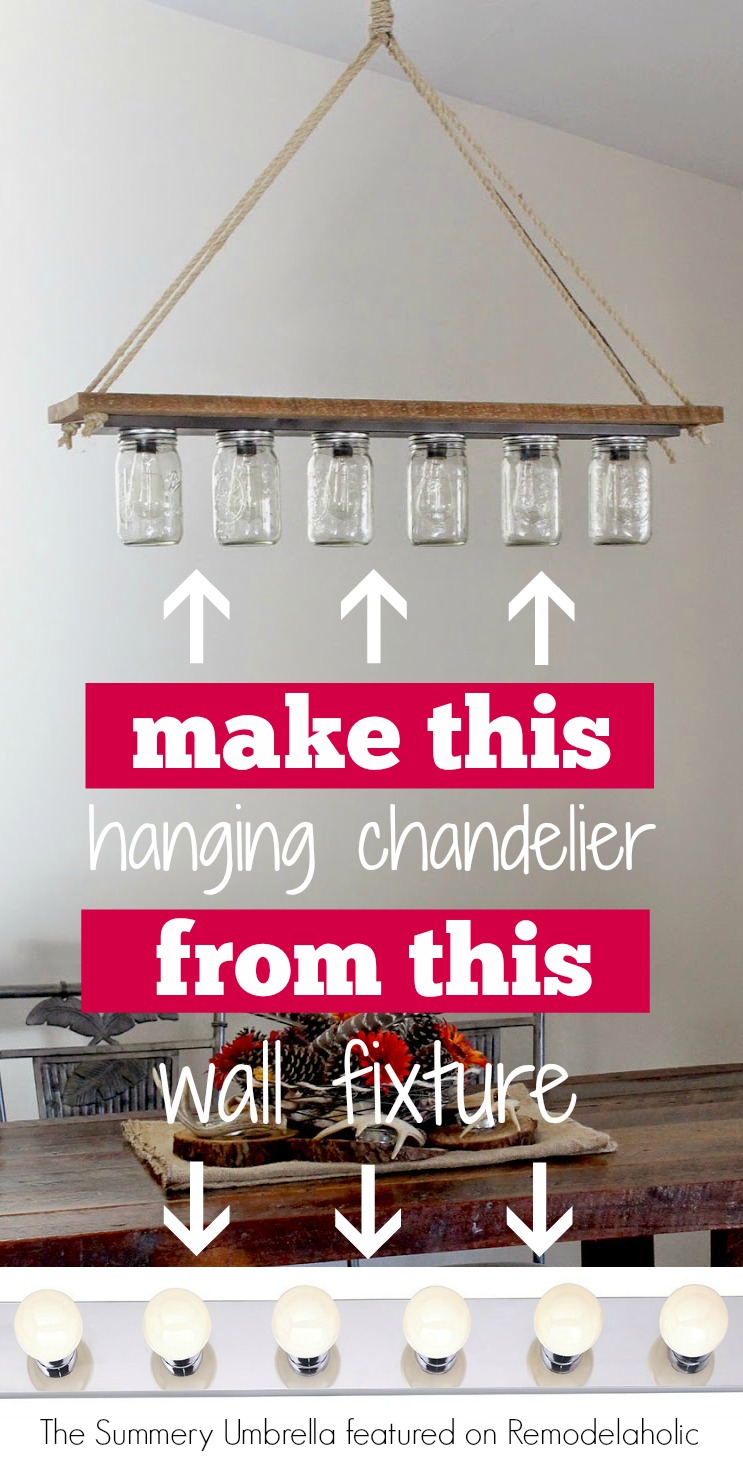 Ditch the idea of attaching vanity light strips to mirrors – instead turn it into a rustic chandelier pendant light. Mason jars installed over the lights make the fixture look more luxurious.
DIY Details : remodelaholic
5. Paper Starburst Pendant Light
Looking just like a huge group of gorgeous stalactites, this starburst pendant is a twist to old, torn paper lanterns. You'll need vellum paper, glue, and scissors to assemble the beauty.
DIY Details : the3rsblog.wordpress
6. DIY Boho Fringe Chandelier
If you adore all things delicate, this fringe chandelier is all your home needs. Embroidery hoops and yarn form the skeleton for the piece, while fringes are glued to each of the hoops.
DIY Details : hometalk
7. Knock-Off DIY chandelier
Add new life and look to an old wrought iron chandelier by wrapping it in jute cording, ending up in a gloriously rustic hanging. For a colorful alternate, replace jute with small bead strings.
DIY Details : remodelaholic
8. Sculptural Paper Orb Lights
Cover a large paper lantern with lots and lots of cupcake liners in rings, further applying petit fours papers inside each white paper. When the orb is complete, simply drop a light in and hang.
DIY Details : designsponge
9. Brass Chandelier DIY
What a design masterpiece with minimal elements is this brass chandelier worked up with brass pipes and globe lights. You also need brass loop 1/8F IPS porcelain keyless sockets, adjustable brass swivel and 2 wire twisted cord.
DIY Details : onekingslane
10. Origami Hanging Lamp Shade
It's amazing how a few easy to pull off paper folds done in a sheet of construction paper bring out a whole lampshade when made into a loop using a string. Totally mess-free and quick!
DIY Details : dawanda